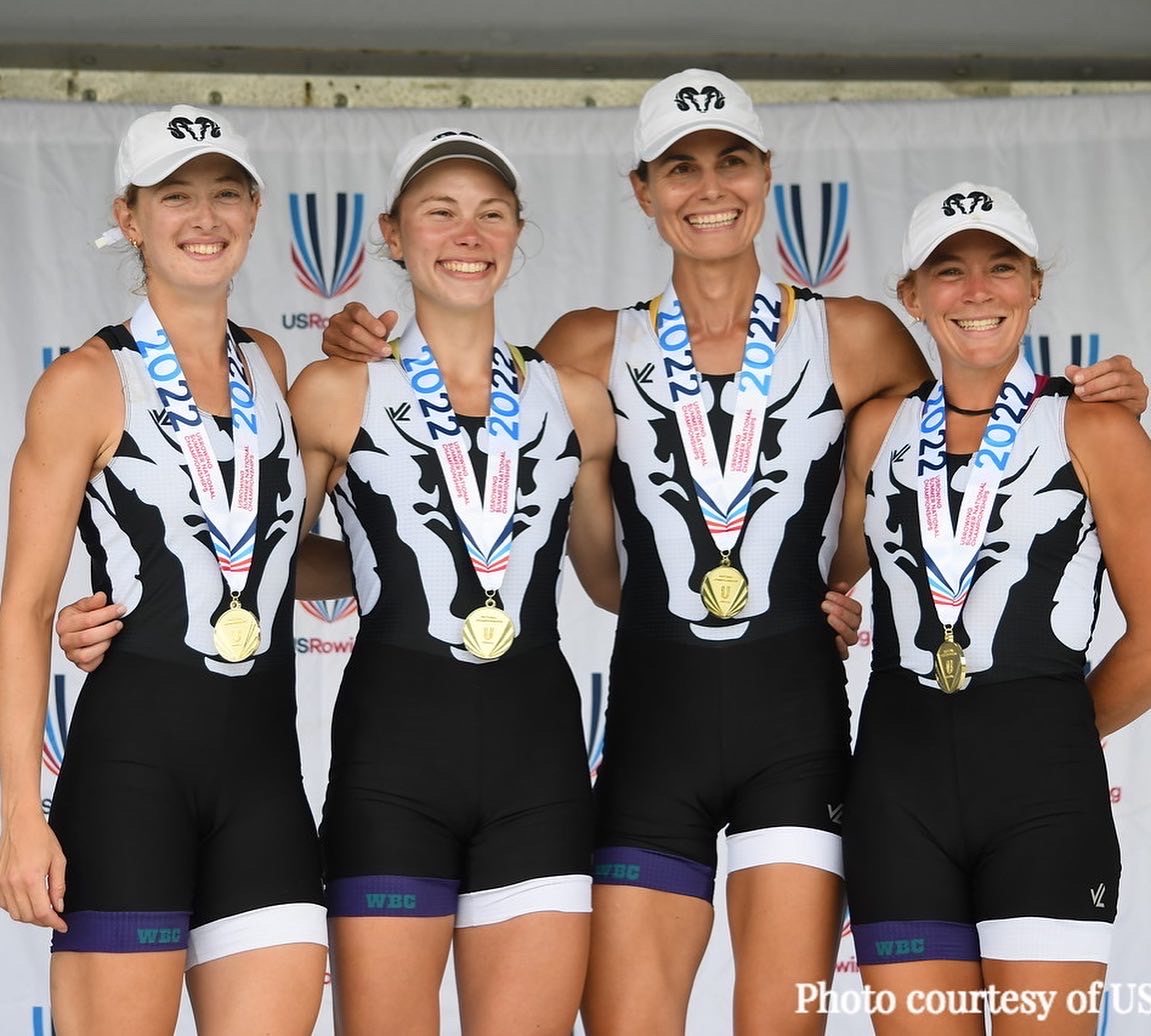 Dear friends and family,
Next month I'll be leaving for Europe to compete in the lightweight women's quad (LW4x) as part of Team USA in what will be my THIRD (!!) Senior World Championship. As someone who got her start in rowing by walking onto Lehigh University's Club Crew Team, it's an honor and privilege to be sharing this news.
Bumps in the Road
This year more so than others has come with many challenges.
• My coach left his position at Penn AC, which meant we had to regroup, rebuild and operate without a home training base.
• I started feeling pain in my ribs in October, which left me unable to train or race at the close of the year.
• COVID hit during the holidays.
• In January, after navigating increasing pain and a variety of symptoms, an MRI showed one torn and two bulging discs in my back. Bad news but good in that I was finally able to take some smart and informed action.
After the injury diagnosis, I teamed up with an amazing doctor in Florida and pursued treatment through image-guided platelet-rich plasma injections. I attended quad camp in Sarasota, FL as a passenger in the coaching launch. And spent many, many minutes on the erg bike. On February 21st, I finally took my first strokes of the year!
The road back to full strength and fitness has been much longer and harder than I anticipated. Thankfully, I've learned patience and perspective during my 21 years in this sport; I've relied on both as I worked my way back to full form.
I've also greatly relied on my network of friends, family, and health and wellness professionals. Their support, care and expertise has carried me through these past months. It enabled me to return to the start line feeling strong and capable. For that, I am forever grateful.
Next Steps
As August kicks off, we're about seven weeks out from racing at Worlds. My boat will be finalizing its race preparations with a 10-day camp in Linz, Austria, and then moving to the regatta site in Racice, Czech Republic. Information about the event can be found HERE.
The lightweight women's quad is a completely self-funded event. USRowing, our sport's governing body, doesn't provide support for the boat class for the entirety of its lead-up and racing at Worlds. We therefore rely on personal resources and support through fundraising to help cover the cost of travel, housing, transportation, equipment rental and meals. If interested, we have two main avenues for donations:
1) GoFundMe. Link HERE. The page includes photos and videos, as well as the history of my boat, my teammates, our mission and goals. I hope you enjoy it!
2) Whitemarsh Boat Club. To make a tax-deductible donation, you can contribute online HERE. Please select "LW4x 2002 Worlds" in the dropdown box on the website. You can also mail a check designated "LW4x World Championships" directly to the club:
Whitemarsh Boat Club
PO Box 944
Conshohocken, PA 19428
Lastly, I invite you to follow my journey on Instagram or right here on the blog!
I look forward to keeping you posted on my boat's path to Worlds. We're working hard to earn a spot on the podium and showcase something our entire community can be proud of.
I sincerely appreciate the outpouring of encouragement and support I've received this year and honestly, throughout the entirety of my career. It's humbling to say the very least.
With thanks,
Cara
Photo Favorites to Date