"Sam!"
I called to an old friend I spotted on the riverbank at Head of the Charles. Someone who brought me back to when we were both baby scullers on Boathouse Row circa 2007. I hadn't seen him in 10 years—maybe more—and within minutes, it was like no time had passed. That's one thing I love about rowing; the connections you make, truly, are timeless.
The conversation migrated to Coastal Rowing. Actually, Sam brought it up point blank, which surprised me. He was the fourth person that weekend to ask about my experience at Coastal Worlds, countering the notion that I typically fly under the radar the way I like.
His questions beamed genuine interest. His demeanor gregarious and tone unassuming. When his former rowing coach approached, someone who I believe coached him to multiple flatwater National Teams, he eagerly announced that he was getting the "real" scoop on Coastal. Likewise, he relayed a story about a time he took out a gig on a windy day on the Schuylkill River and how he was able to "zoom" right by all the flatwater shells because, considering conditions, it was the "right tool for the job."
I share this for context because the conversation turned to how "everyone" was hating on Coastal. Yes… hating. When Sam said the words, I understood the sentiment but needed clarity on the everyone. Did he mean USRowing? The high-performance community? Parents, spectators, rowing fans?
When I asked for specifics, he gestured upriver. "Everyone," he reiterated. "For the next three miles," he further explained.
Let's pin that.
The evolution of my Coastal Rowing campaign
When I returned stateside from racing in the 2023 World Rowing Coastal Championships, I was on a high. So much so that I wanted to pick apart the experience in a way that enabled me to understand why this Worlds campaign felt so starkly different than others. My boat finished 9th so I was without a fairytale podium moment. And our performance in the Final independent of the result was subpar, leaving me void of the satisfaction gained from executing a hands-down spectacular, we left it all out there-type race.
What, then, felt so compelling? In the year I was determined would be my last, what left me suddenly wanting more?
South Lido Key Beach: Where my Coastal story begins
Jim Henderson, Liteboat dealer and champion of Coastal Rowing, is technically where the story begins. I reached out to Jim on Instagram last spring. I had been drawn to his photos off the coast of Sarasota, FL, and looking to expand my local circle of friends. The connection was natural and his home, seconding as a launch site and grounds for his fleet, just so happened to be walking distance from mine.
Something else serendipitous: When Jim and I first met, it was days before Trials for the 2023 World Beach Games Continental Qualifier. The event was taking place on South Lido Key Beach. Jim casually invited me to stop by.
Seeing the Trials pulled me closer. The conditions were rough, and the day was fast-paced. The energy in the atmosphere was palpable and high. I wore National Team-issued shorts marked with the USRowing logo, which I assume made me easy to identify. When I walked onto the beach, the other athletes and competitors were quick to introduce themselves, answer my coastal-related questions or simply say, "hi!"
When the regatta wrapped up, someone asked me to take a group photo. I watched as the entire contingent of coaches and competitors assembled in no time. From an outsider's perspective, there was a collective sense of celebration and accomplishment—nothing I had ever seen or experienced in my twenty-plus flatwater years.
From South Lido Key to a Coastal boat in South Dartmouth
Fast forward.
It is August and I am sitting bow seat in a coastal women's coxed quad scull (CW4x+), rowing off the coast of South Dartmouth, MA. My boatmates and I had gathered for a mini-camp prior to leaving for an extended training block in Spain. It was my first time in a coastal boat and slightly terrified was the single phrase that kept coming to mind. I locked my gaze on my two-seat and fixed focus on the sound of the shell.
Was I in love? Far from it. But I had committed, and it is not in my nature to commit then back down.
Beach Sprints, Coastal and "Classic" Rowing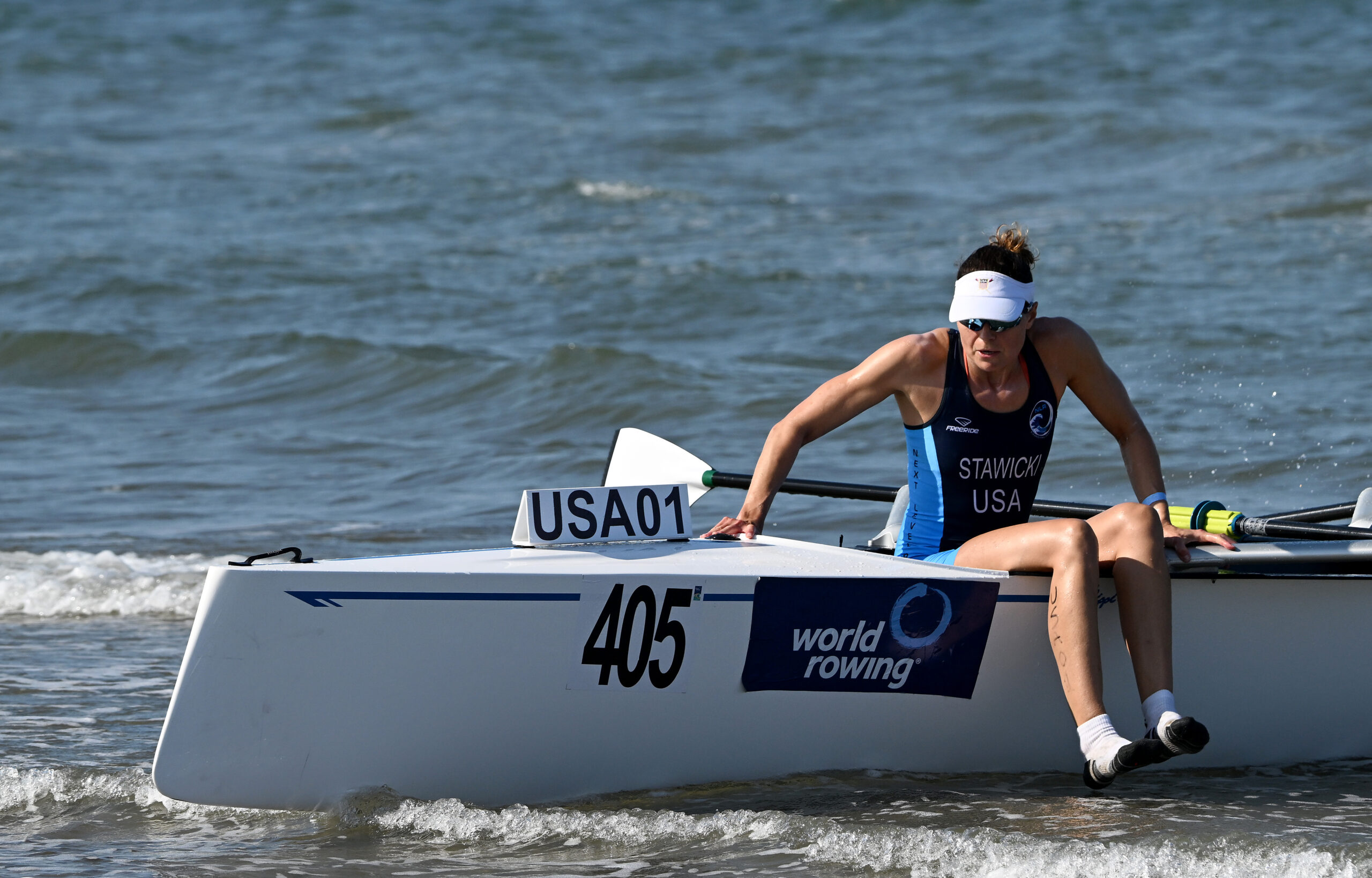 Before moving forward with the story, let us take a step back. If you are anything like me, years of flatwater experience and no to minimal coastal knowledge to speak of, you have questions. What exactly is Coastal Rowing? Where did it come from and how do Beach Sprints fit in? What are the race formats and how does it compare to what World Rowing recently referred to as "Classic Rowing?" And perhaps most burning: From the lens of the big stage—the Olympics—where does Coastal Rowing fit in?
Coastal Rowing: An overview
Coastal Rowing, as the name clearly indicates, takes place on the open water, typically a large lake or sea. According to World Rowing (2020) the discipline was first codified in France and, "is defined by a set of measurements and regulations that boats and rowers need to comply with when they want to race." It contains three formats including Beach Sprints, Endurance and Touring. The tour format is akin to an ultra-endurance event and can take place as a race or physical challenge. Tours are generally hosted by clubs or touring companies and not currently contested as World Rowing sanctioned events.
The Beach Sprint and Endurance formats, on the other hand, appear in sanctioned competition that includes the World Rowing Coastal Championships and World Rowing Beach Sprint Finals. The Endurance format dates back to the 1980s. It was founded in France with the first World Rowing Coastal Championship taking place in Cannes, France in 2007. Races are 4-6km long and take place on buoyed courses that include a variety of turns. Starts and finishes can take place on land or in the water depending on water conditions and venue, with races usually lasting 20-40 minutes long.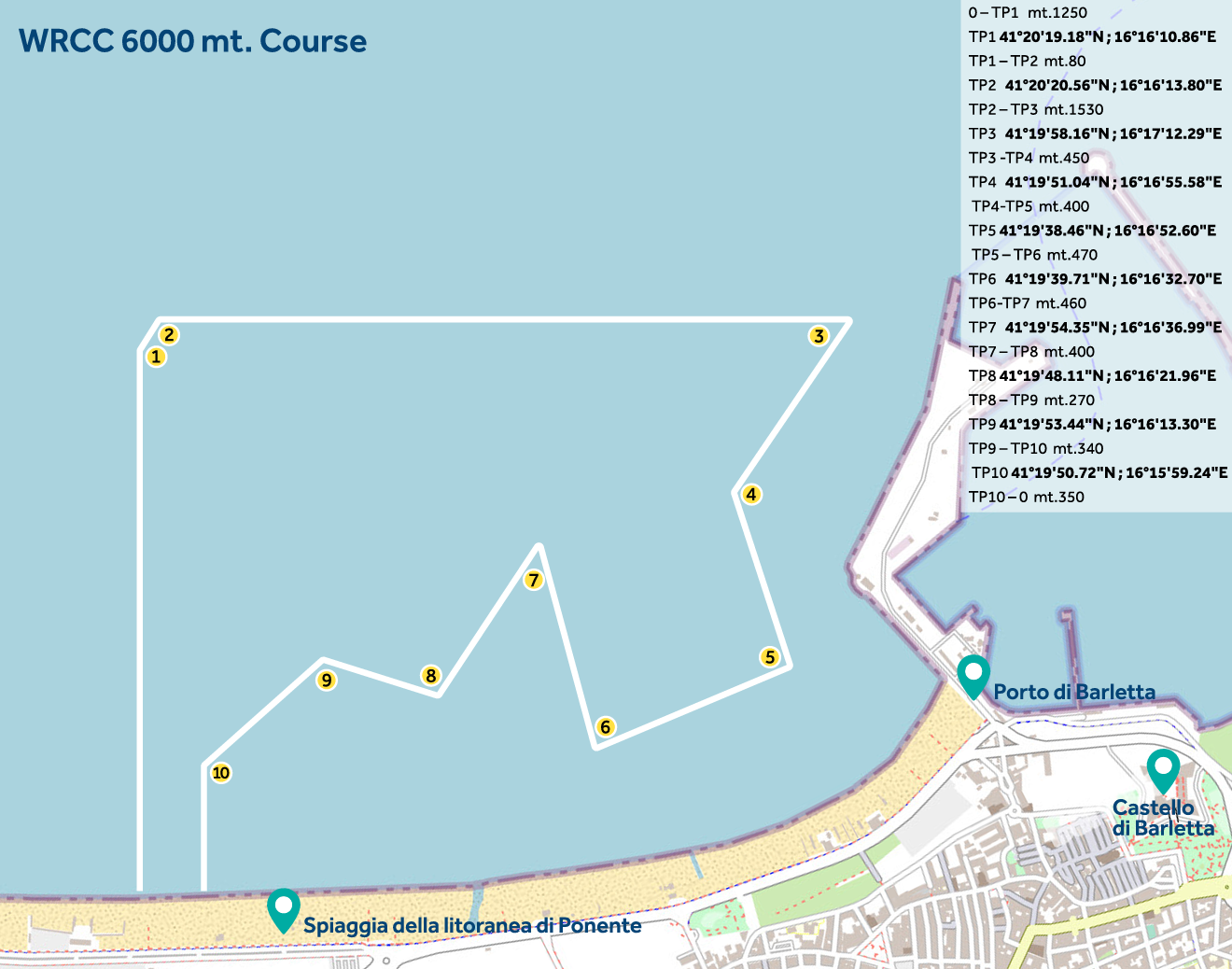 Beach Sprints is a newer format founded, "as a result of the emergence of beach games competitions" (World Rowing, 2020). The format was first contested in 2015 at the Mediterranean Beach Games in Italy. The first global Beach Sprint event was held in 2019 at the World Rowing Beach Sprint Finals in Shenzhen, China. Unlike its Endurance counterpart, Beach Sprint Racing consist of a run-row-run format that takes place on a 250m out and back buoyed course. The racing includes a time trial and knock-out progression system and usually lasts between 2:30-3:30 minutes.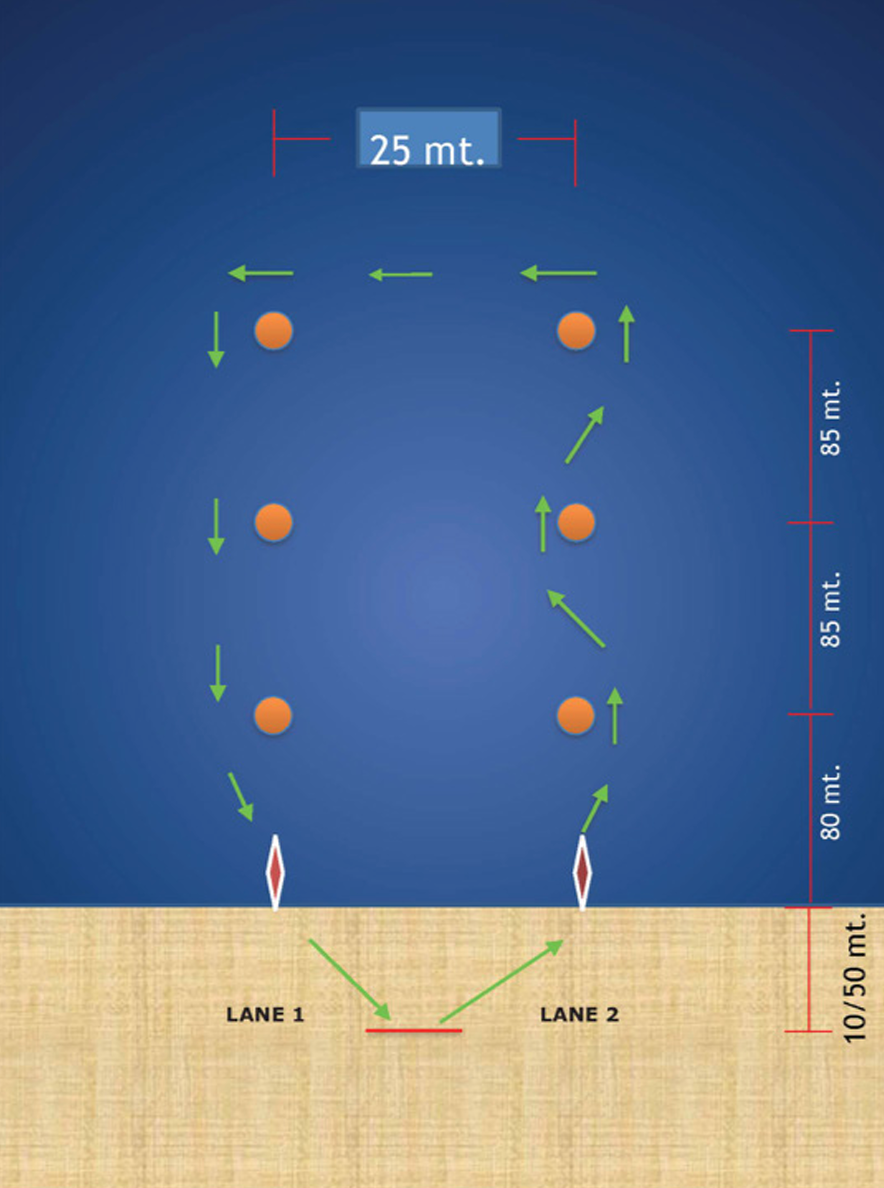 Coastal boat classes
The boat classes, all sculling, include the solo (yes, this is the equivalent of the single in classic rowing lexicon), double and coxed quad sculls. In Beach Sprint Racing, at the senior level in 2023, there were opportunities to compete in the men's and women's solo, the mixed and PR3 mixed double and the mixed coxed quad. In Endurance, the events included the men's and women's solo, double and coxed quad, and the mixed double.
Three boat classes, two breakdowns
Other key differences and considerations
Remember how I said "slightly terrified" was on loop in my mind during my first coastal outing? The sentiment dissipated but never quite fully disappeared with experience and time. Safety is an important consideration in all rowing disciplines but, from my perspective, there is an added element of risk in coastal. In its' Learn to Row document for coastal, World Rowing includes a dynamic risk assessment checklist that maps out potential hazards to assess before launching. These include wave break height, wave frequency, rip current, tidal current and beach condition.
For a girl with flatwater roots, knowing the sea—how to understand changing conditions and being able to distinguish between what's safe and what's not—is one of the bigger barriers to continuing in the discipline with complete independence and freedom. And yet, that is also part of the allure. The open water's ever-changing and inherently variable conditions demand that you release perfection. Lost an oar? Grab it back! Went airborne at the height of a swell? Get your tush on the seat, refocus and row!
As for my sense of independence in a boat off the coast, sure, safety and risk assessment play a key role. So does that fact that I went from experienced back to brand new. This in itself offers a thrill. While I can call on my skills and experience in flatwater, I am essentially part novice in a world of endless opportunity to learn.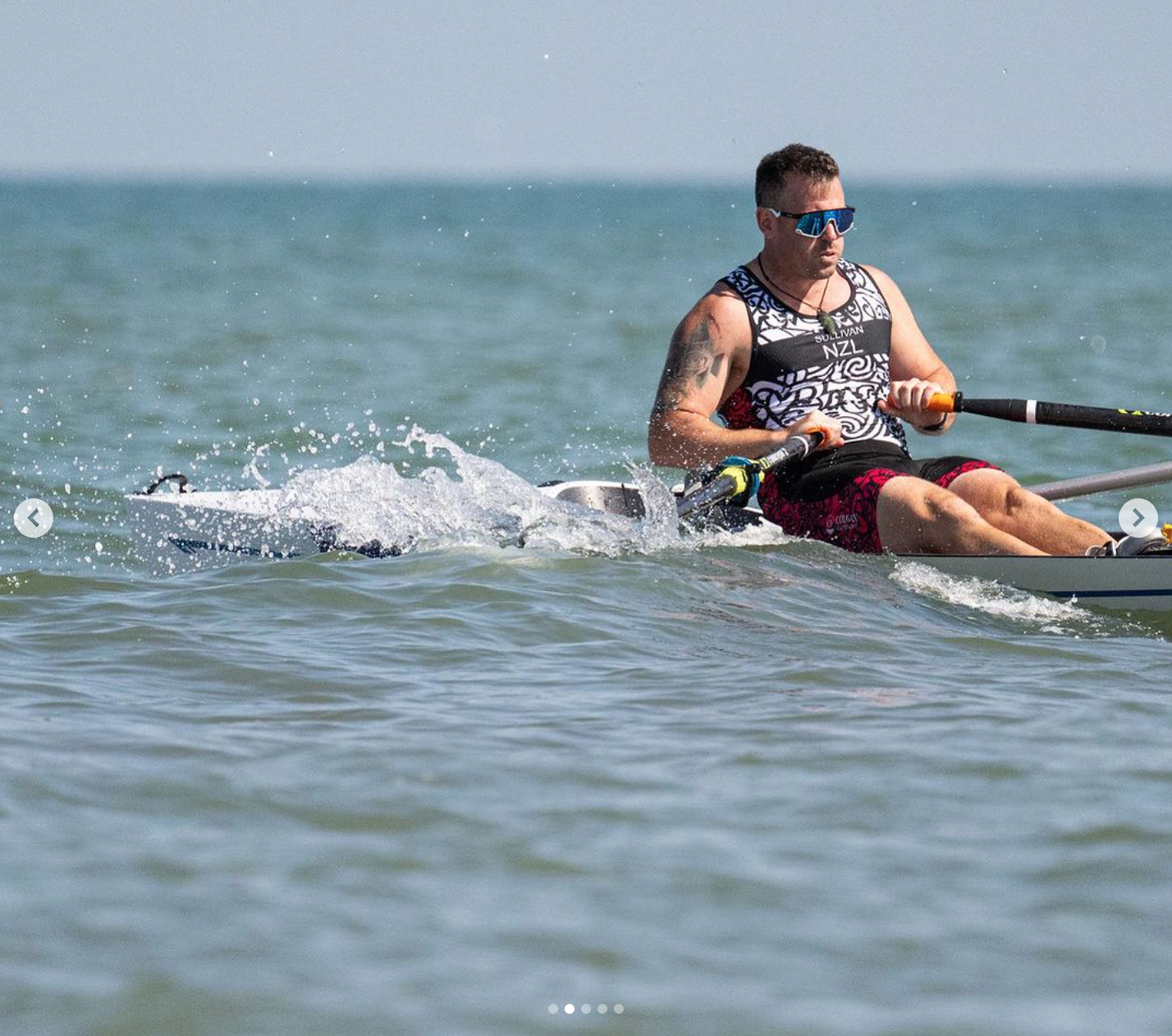 Coastal Rowing in the Olympics and a call to widen the lens
Quick pause to reset.
Let's circle back to the place that we pinned and put some definition around the sentiment implied in the conversation with Sam. Remember, reflective of the flatwater collective, the sentiment was one that looked down on Coastal Rowing. It positioned the discipline as "lesser than." Viewed it with a critical, rejective and judgmental eye.
Lesser than is an interesting notion in the context of elite sports. It should be an oxymoron. Yet it is a feeling I know all too well. Lesser than followed me throughout my flatwater career, partly because I represented the US in two non-Olympic events (the women's lightweight pair in 2019 and the women's lightweight quad in 2017 and 2022). And partly because I was affiliated for several years with an organization and leadership that prioritized men's sculling and likewise deemed everything and everyone else of lesser value and prestige. Here I slightly digress. And I speak to why the notion sparks curiosity and warrants my time.
From an objective perspective, Coastal Rowing is arguably a simple and perhaps even late-to-the-game response to the times. Coastal Rowing in the Beach Sprint format will take place in the Los Angeles 2028 Olympic Games. (Note that the final decision on the exact events is still pending and won't occur until after the Paris Olympics in 2024.) The announcement was made by World Rowing on October 13, 2023, in a press release that stated,
The inclusion of Coastal Rowing in LA28… is expected to be transformational for our sport in terms of global exposure… We believe Beach Sprint Rowing has the potential to enhance the Olympic programme by embracing beach culture and our shared values of universality, gender-equality and sustainability. (World Rowing, 2023, para. 3)
What's my take?
Now, I am not here to argue the merits of this statement or examine the politics of World Rowing or the International Olympic Committee. What I can say with conviction is that the decision addresses a persistent gap in access to rowing and the need to gain broader popular appeal.
Anecdotally, Lawrence Britton and Jake Green, South African rowers, Olympians and hosts of The Row Show podcast, close out each episode by asking their guests, "If you were in charge at World Rowing, what would you change?" Repeatedly, I hear the best of the flatwater community—rowing legends the likes of Helen Glover and Eric Murray—advocating for shorter, more visually accessible race formats, mixed gender events, and the opportunity to double-up and race multiple events.
Coastal Rowing on the world stage already features these elements. Yes, that's right… all three!
My experience and subjective stand
This year, I walked on the beach in Barletta and was immediately taken by the scene. A buzz matched the visual that is difficult to wholly describe. There was a sense of freedom and even greater sense of embrace. I want to say inclusivity, yet hesitate because the word, today, is so charged. But truthfully and correctly, that is exactly what the beach was reflecting—an inherent collective embrace.
Throughout the week, I took notes in my phone. A list of words emerged that included freedom, fun, inclusivity, support, community, competitiveness, intensity, unpredictability, camaraderie and fun. The question I still ponder is why. What made the coastal experience so different? What elements of Coastal gave way to a culture clearly freeing and fun?
Three things
From where I sit now, I think the environment alone played a role. The beach is open and expansive with athletes from all competing nations literally gathered as one. This is in contrast to pods or tents setup for each country in flatwater—equally enamoring yet perhaps to a different effect. Second, Coastal is fundamentally and necessarily more collaborative. You share equipment, rely on boat handlers and need hands-on help from your team. Last, I wonder about the open water's intrinsic effect. It is pure and unwieldly; it demands a letting go of ego and, likewise, commands universal respect.
With all this in mind, the conclusion that holds true for me is this: There is beauty in the work to achieve consistency in flatwater—the sense of effortless power and speed. There is freedom when the open water takes the aim for consistency—the chase for perfection—away.
Both are compelling. Both pull my heart.
An ask to elevate
The growth and increasing popularity of Coastal Rowing is creating opportunity and expanding the field. This, in my opinion, is a blessing. Think one last time about the conversation with Sam. Then consider:
What would it mean to explore Coastal Rowing with openness and curiosity instead of judgement?
What would it mean to invite in (dare I say celebrate) the new opportunities emerging and think with a lens of expansion, not scarcity?
How can we elevate our perspectives? In the process, how can we elevate ourselves?
Thank you for reading, my friends. With gratitude.
Photo credit: @aworthyphoto @MeinRuderbild
Thank you: Joe Sullivan @sullivannz
References
– World Rowing. (2020, July). Coastal Rowing (1st ed.).
– World Rowing. (2023, October 13). Rowing Makes Olympic History with the Inclusion of 'Beach Sprints' at the Los Angeles 2028 Olympic Games. Link HERE.