We delight in the beauty of the butterfly, but rarely admit the changes it has gone through to achieve that beauty. ~Maya Angelou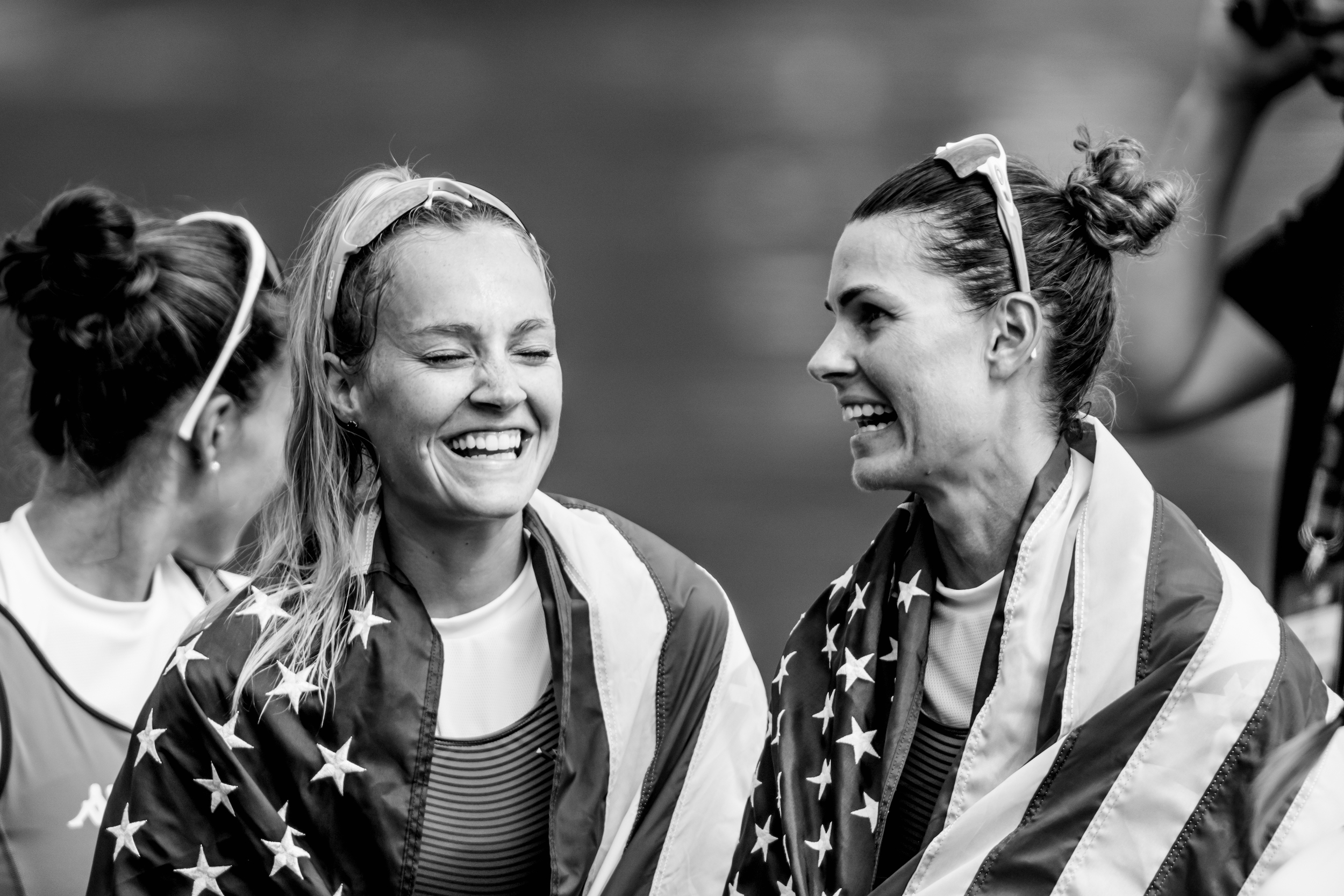 I almost cried before we even got to the start line. Twice! First when I heard another country's national anthem being played over the loudspeaker, right after we launched for the Final. Second, when Margy stopped the boat during our warm-up and started in on some presumably heartfelt speech about trust. I cut her off fast: "You're going to make me cry!" I said, the tears already welling.
We had something special in the pair—Margy and me. And the way the summer unfolded, from the first day at GMS right up until the day we stood on the podium, was rare. I know this because I've been in the game a long time. I started rowing in 2001. Going for the National Team was a seed of an idea in 2006. And my first real attempt at making a Team USA boat was in 2013.
Eighteen years—years that included everything from Collegiate Club Crew to racing Intermediate and Senior events on the Schuylkill to representing the country at Worlds—comes with a lot of varied experiences in a lot of varied crews. To work toward World Championship Gold and simultaneously maintain awareness that the pieces were coming together… it was awesome. It was nothing short of awesome, and special, and rare.
The Recipe Behind the Reward
I am proud of a lot of things right now. I am proud of the way Margy and I took ownership of our boat from Day One; of how we communicated with each other and problem-solved in a way that added to our success; of how we executed our training—purposeful and with intent; and of how we upheld a commitment to always pushing the standard to gain speed.
I am proud of the way I maintained a willingness to learn and curiosity about how far and how fast we could go; and of the way that I showed up in training, despite being tired, or homesick, or lonely. I am proud of the way we looked for challenges, like racing at Canadian Henley, to help us get better prepared; and of how we learned from the prelim at Worlds, discussed strategy with our coach and made changes. And I am proud of the way that we raced in the Final—aggressive, decisive and fully trusting.
The View from Inside
We were in last off the line in the Final. Did you know that? We practiced our starting five strokes all summer long and for the life of me, I still can't figure out how everyone—at Trials, in Canada and at Worlds—beat us off the line. We were in last, and stayed calm and fully within ourselves. The race was a work of art. Can I say that? It is the best way I know how to describe how it unfolded. We executed our start sequence, settled into an aggressive base rhythm, and steadily and assuredly moved into the lead. When I watched the video replay, I was surprised by how much Italy moved into our boat in the final 250m. From my perspective, we were in control the whole time. There was not a single moment of panic or doubt as we raced. That, on its own, is a feat.
The Growing Pains
We were sitting near the start line during one of our practices and bow balls, oar blades and supercharged energy were literally all around. We were waiting for the traffic to clear just enough so we could safely cross the course, turn and head down. To say it was chaos would not nearly do justice to the scene. "Growing pains" came into mind and I think for the first time I understood the phrase viscerally. Growing pains. This. THIS feeling. This feeling that I'm experiencing right now. It was a strange moment during which I knew I was pushing my mental capacity and also aware of the chance to step-up.
It reminded me of a blog post (see "Three Thoughts for 2018," dated January 1, 2018) by runner and three-time U.S. Olympian Jen Rhines. In it, she writes:
Uncomfortable is where the growth happens… We all have our habits and routines that we are comfortable with… But to go beyond where you've been before you need to challenge what you normally shy away from. That thing that you know you should do but makes you feel slightly queasy, that's the one. This is also what keeps your competitors on their toes. They know how you operate, what defines the edge of your comfort zone. Pushing these boundaries gives you more tools to pull out of the box; it makes you a tougher opponent. So go ahead, jump into the unknown, this terrifying leap will be followed by a huge sense of accomplishment.
The Real Gold
When I got home, one of the first people I saw at Penn AC asked if I had my medal with me and half-jokingly commented that if he had won, he would be wearing it all the time. Similarly, more than one person has asked if I feel different, and each time I have been quick to laugh and say "no." I learned early on that I am not defined by my sport, which is fundamental and still true. But, after letting the summer sink in, I think I can say that I do feel different. And I believe that I am.
For the past three… six… twelve plus months, I have met challenge after challenge head on. Small, isolated moments like the chaotic practice at Worlds, along with macro "moments" like simply rowing (never mind the actual racing) the pair have taken me out of my comfort zone and yielded chances to grow. Was working through each challenge easy? No. In fact, Jen's words about feeling "slightly queasy" are spot on. Were the outcomes—the final race result and the big and small wins along the way—worth every uncomfortable minute? YES. To stand on the podium with my husband, mom and dad in the stands was awesome. To know what it took to get there is true gold.
Pushing Boundaries
When we set goals, as athletes or otherwise, we sign up for the slightly queasy. Pushing personal boundaries does not feel good. At Worlds, two of my teammates independently used the word terrifying to describe their experiences racing. Two! These are women at the top of their game who are undoubtedly among the world's best. How were they terrified yet able to muster the courage to perform? How did I have the wherewithal and courage to perform?
In my experience, you have to expect the slightly queasy. Know what it feels like and know it well. Seek it in order to learn the sensation and practice what it means to embrace it. You can do this by challenging yourself incrementally and allowing each challenge to build on the last. This, by the way, is how you gain confidence and self-trust—attributes that are cultivated and earned. You meet a challenge or accomplish a goal and feel better prepared (i.e., more confident in your ability) to handle the next one.
In addition, develop a skill set to help you handle the queasy—tactics like affirmations and visual anchors that help quiet the self-critic and self-doubt. Recruit help (I did). Know that you are capable. And trust in your ability to succeed.
Happy training, my friends! The new year is upon us. 2020—let's go!
Heartfelt Thanks
Shoutouts Up and Down the East Coast
It's been a privilege to have such an incredible team of people providing ongoing friendship, resources and support. Thank you from the bottom of my heart.
In Connecticut: The Bertasi family who graciously hosted me all summer; GMS Rowing Center and Opex Gold Coast where I trained; and the team at Velocity Sports Medicine that helped keep me strong.
In Sarasota: Sarasota Crew, Crossfit Lena, Dr. John Prokopiak, and Dr. Filipp Gadar at Gadar Oriental Medicine.
In Philadelphia: Penn AC Rowing Association, Requisite Fitness, Adam Schreiber at WellPoint Oriental Medicine, and Dr. Lenny Roberts at Summit Spine and Wellness.
And the team that comes with me everywhere! Perrin Behr at Requisite Fitness, Mike Kestheley at Nova 3 Labs, and Samantha Livingstone at Livingstone High Performance.
The Real Real Gold
I leaned on my husband more this year than ever before. What can I say that would even begin to do justice to how much I treasure this man? It was a hard year that included a lot of changes and time away from home. I am forever grateful that he was with me each and every step of the way.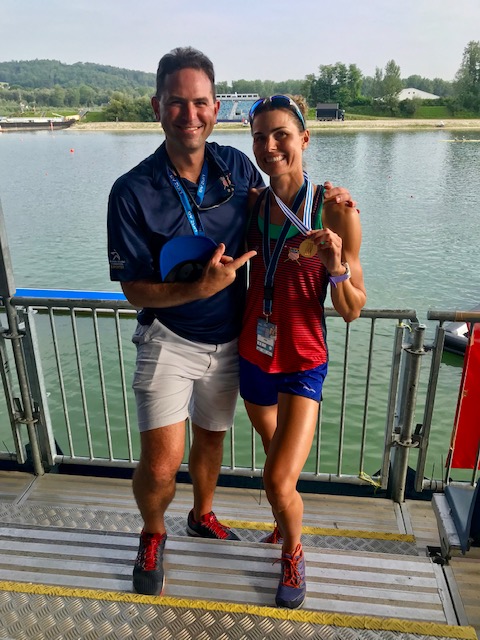 Video Links and Photos
Racing video. Lightweight Women's Pair (LW2-) Final A: Click HERE.
A clip from our post-race interview with USRowing: Click HERE.
A few of my favorite photos courtesy of Lisa Worthy of AWORTHYPHOTO.