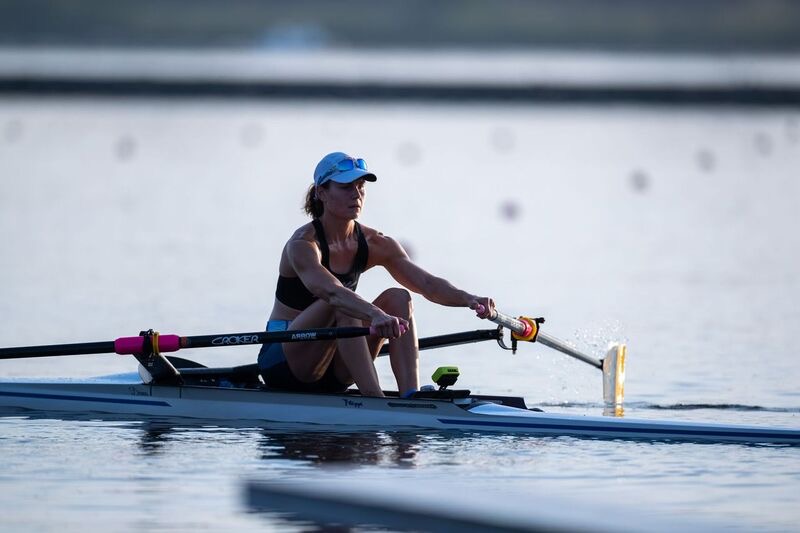 Here's a rough snapshot of my last three days of training, as of the day I'm drafting this post.
Saturday morning:
6 x 1,500m on the schedule. For those unfamiliar with rowing, this is no easy task! I wake up in a complete mental fog. It's strange because I slept like a rock star. It's humid in Florida and we got about four inches of rain on Friday. I suspect that I'm just feeling the effects of the dampness and heat. I drive to Benderson thinking about how I'm going to mentally get up for the workout. When I get to the course, my training partner Emily and I see lightening and make the call to adjust the schedule and stay on land. In the moment, it's a small blessing given the state of my head.
I drive home, now with a lift tasked ahead. I'm fueled and fully caffeinated but still foggy. The work though—it needs to get done. I make a pit stop upstairs to change gear. And then mosey back down to the garage and get started, diligently executing one lift, one set, one rep at a time.
Saturday afternoon:
Hard steady state on the RP3. This was initially planned for Sunday but got moved as part of the weather-related reshuffling of work. I told Emily I'd meet her at 3 p.m., which makes it relatively easy to get out the door. Accountability is key! Kyle is out, which helps too; it would be way more difficult to get moving if it meant breaking up a leisurely weekend afternoon together to go train. It crosses my mind that it would've been easier to do the workout at home on the erg, which is a way more forgiving machine. But since when do I ever choose easy?
Sunday morning:
6 x 1,500m, take two! I have nothing. My body is fighting me from the very first stroke of the first piece. I do what I can to get the most from the training session and make some adjustments on the fly. It's a tough way to end a good week. After the workout, I appreciate Emily's added perspective and advice.
Monday morning:
It's a rest day! My alarm goes off at 5 a.m. because I like to keep a consistent schedule. Kyle and I have plans to go for a walk and short swim. I'm reluctant to get up and, against my better judgment, strike an internal bargain: I can stay in bed for another 30 minutes if I throw on my NormaTec boots and bank a little bonus recovery. I love those boots so not a whole lot goes into making this "deal." Two hours later (!) I wake up and, no joke, it's like a state of confusion took over my head.
7 o'clock?!
I remind myself: This is one of the reasons I have a routine. Execute. Don't think. There's nothing to decide. Just execute your morning routine.
I'm tired. Maybe I woke up at the wrong time in my sleep cycle. Maybe it's because it's the end of a hard training week. I don't know and ultimately it doesn't matter. It's Monday morning and, in the moment, I'm tired and confused (i.e., vulnerable to negative self-talk and good old judgmental thinking). I start making the bed and, within minutes, I find myself getting frustrated for sleeping until 7 and "failing" my workout on Sunday.
Good Lord! Give yourself a break, girl! Have you ever heard of self-compassion?
I know enough to keep moving. I cling to my morning routine and, as it turns out, start the day right, albeit two hours later than planned!
The Fourth Agreement
I want to share an excerpt from The Four Agreements—a book that basically serves as my bible.
Under any circumstance, always do your best, no more and no less. But keep in mind that your best is never going to be the same from one moment to the next. Everything is alive and changing all the time, so your best will sometimes be high quality, and other times it will not be as good. When you wake up refreshed and energized in the morning, your best will be better than when you are tired at night. Your best will be different when you are healthy as opposed to sick, or sober as opposed to drunk. Your best will depend on whether you are feeling wonderful and happy, or upset, angry or jealous.
In your everyday moods your best can change from one moment to another, from one hour to the next, from one day to another. Your best will also change over time. As you build the habit of the four new agreements, your best will become better than it used to be.
Regardless of the quality, keep doing your best… in any circumstance in your life. It doesn't matter if you are sick or tired, if you always do your best there is no way you can judge yourself. And if you don't judge yourself there is no way you are going to suffer from guilt, blame, and self-punishment. By always doing your best, you will break a big spell that you have been under.
Anchoring Words
Just do your best.
These are the words that got me down the stairs and into the garage Saturday morning, and into the car and headed to my training session Saturday afternoon. They got me into the boat and lined up at the start on Sunday. And set the tone for a good day Monday, before I went too far down the path of negative, judgmental thinking.
Our Collective Duty
I've been sensing an increasing fatigue with stay-at-home orders, other restrictions and news about COVID-19. The barometer varies but, in general, it feels like we're through the adrenaline surge at the start of a race, and now tasked with staying focused, disciplined and aggressive through the heart/mid-race. What does that mean in real time? It means that it's go time, my friends. It means that it's time to decide.
See, in racing, there's always a moment when, despite the pain and fatigue, you have to hit a new gear. You make a decision to dig in and go. You sit taller, remember to breathe, grit your teeth, get your legs down, and lean into the physical pain. In life, we must also lean in. But not by gritting our teeth, and not by pushing through the pain that is anger, sadness and fear. Instead, we lean in by expressing empathy; we lean in by engaging in kindness; and we lean in by practicing self-care and striving for our best everyday.
How?
First,
Know that we need to acknowledge our feelings. When we try to minimize or deny them, we just end up amplifying how we don't want to feel.
Second,
Understand that, to use the words of Lori Gottlieb, an American writer and psychotherapist, there is no hierarchy of pain. This is a critical principle to adopt and understand. Early last month, when COVID-19 restrictions had just started taking effect, someone close to me disclosed feeling selfish for missing family when others were sacrificing and suffering so much. Likewise, I recently heard a small business owner talk about feeling "survivor's guilt" simply for staying afloat during this time.
Pain is pain, my friends. Hurt is hurt. Suffering is suffering.
There is no hierarchy of pain.
Third,
Firmly commit to your system of self-care. Don't have one? Here's an exercise* you can do to get started.
Joy List: Make a list of 15 things you can do for yourself that bring you restoration or joy. Then, deliberately do at least one thing each day. You can build out the exercise by categorizing your items, setting goals, and/or devising a system for tracking. For example:
Five of the items might take five minutes or less (e.g., enjoying a cup of hot coffee); five might take 20 minutes or less (e.g., practicing your favorite yoga poses at home); and five might take an hour or two, or even a couple of days (e.g., dinner with friends or a trip with your spouse). Goal: To do at least one item that takes 20 minutes or less each day, and one that involves an hour or more each month. Tracking: Simply keep a running list on your phone.
Note that I used the word deliberately. Self-care strategies are great when you find yourself emotionally in need, but they work even better when practiced proactively and on a regular basis. A few things I've been doing lately: diffusing my favorite essential oils while I work during the day; playing music while I cook dinner; and reading a novel or book just for fun before bed. (I have some great recommendations if you're interested!)
Well Wishes
I've been toggling between writing something light and purely for fun, and something with more depth in response to the quarantine and overall situation at hand. I've also been longing to convey a message about strength, courage, motivation, mindset, resilience and faith, but have struggled with how to do that without sounding like I'm just citing platitudes. And so I'm meeting you here, with a training recap and related lessons, practices and perspective that I hope you can drawn on regardless of where you are in your athletic and/or personal journey during COVID-19.
In terms of the quarantine, as far as I can tell, it's right at about mid-race, my friends. For some of us, it is time to decide. How do we want to show up for our families? How do we want to show up for our friends? And how do we want to show up for ourselves? Remember, we are in charge of our own thoughts and actions. We are tasked with doing our best. We are reminded that our best will fluctuate and change over time.
*Joy List adopted from Carrie Cheadle, Certified Mental Performance Consultant, coach, author and co-host of the podcast "The Injured Athletes Club."
Photo credit: Rowing Moments.