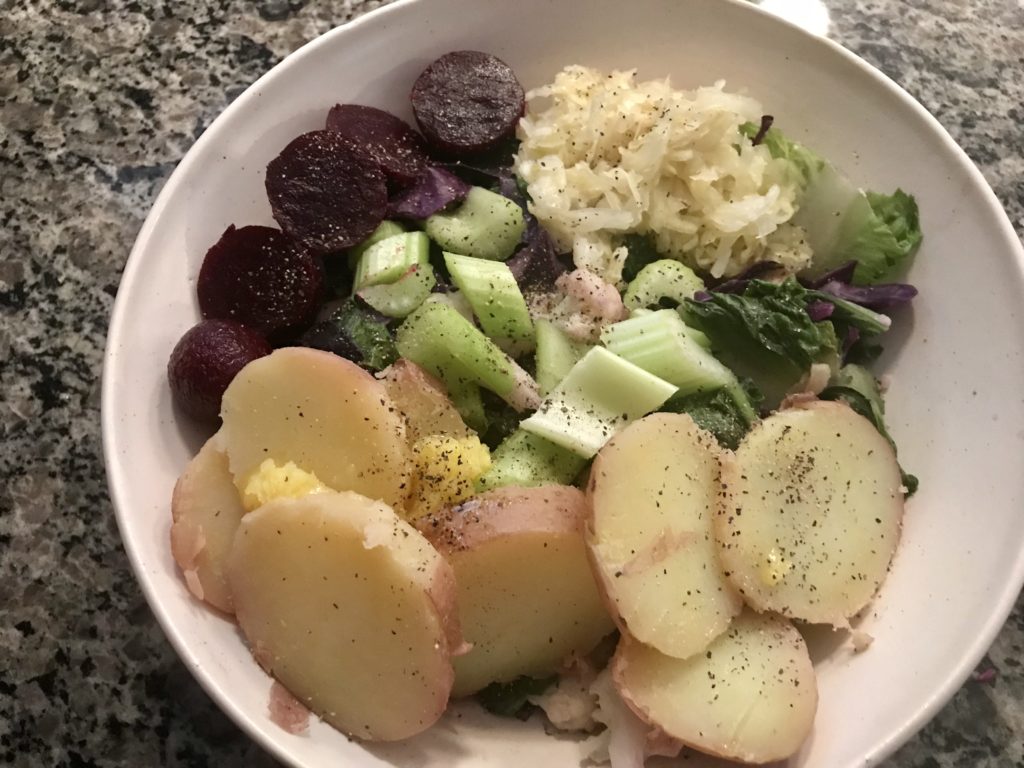 HELLO, winter! Welcome, 2018!
Winter hit us hard and early here in Philly. December is usually one of my favorite months on the Schuylkill—high schools and colleges are indoors, the air is crisp and the water almost always flat and placid. This year, December stayed mostly rowable but temperatures consistently hovered around freezing and January, so far, has been a complete bust. The river is solid and it's been in the single digits more times than I care to know.
The good news: Training in these conditions—albeit indoors—is making me feel extra tough. It takes a certain stamina and high degree of mental fortitude to get to the boathouse in the dark and cold. And, long, hard pieces on the erg don't necessarily make it any easier.
Knowing that I'm in it with the whole gang at Penn AC has helped. (Seriously, friends, never underestimate the power of good teammates!) And, experience tells me that winter training as a whole is going to fly by even though it sometimes feels like it's going to last forever. In addition, my body's feeling strong and capable, which is a joy and a blessing because much of the fall was a struggle. (Note to better manage the post-season transition next year!)
So, despite the car dashboard reading FIVE degrees on my way to practice last week, things are looking up in the New Year!
Eating with the Season and Fueling to Perform
It's no secret that what we eat directly affects our ability to focus, improve and perform. Food choices and nutrition practices impact energy, sleep quality, speed of recovery, weight fluctuations and mood, all of which underlie day-to-day performance and long-term gains. In winter, specifically in cold-weather climates like here at home, eating foods that are warming and nourishing encourage balance with the environment and help our immune systems stay strong. Cooked foods are easier to digest than anything raw or cold, and therefore contribute to systemic, whole body efficiency when eating to optimally perform.
I've dabbled in a lot of different nutrition strategies and fueling practices, and the one thing I keep going back to is listening to my body and what it wants and needs. Like anything, this is a skill that develops with time, practice, attention, and some fun and experimentation. Recent cravings, which have included sauerkraut, of all things, led to the design of this warm winter salad. It's seasonal, macro-friendly, and packed with color, which means plenty of phytonutrients to ward off disease and keep us on track toward our goals.
Warm Winter Salad Packed with Chicken, Veggies and Kraut
Serves: 1
Marcos: 10 grams fat / 59 grams carbs / 40 grams protein / 440 calories
Ingredients:
120 grams (1 cup) cauliflower florets
140 grams (3-4 cups) romaine lettuce, roughly chopped
100 grams (1 ½ cups) red cabbage, roughly chopped
30 grams (2 tablespoons) Bolthouse Farms Creamy Roasted Garlic Yogurt Dressing
112 grams (4 ounces) chicken breast, cooked and sliced
75 grams (1-2 ribs) celery, sliced
50 grams (½ cup) roasted or marinated beets (I use Love Beets Honey + Ginger)
50 grams (4 tablespoons) sauerkraut (Wildbrine Dill & Garlic Sauerkraut Salad used here)
150 grams (1 medium) red or Yukon gold potato, cooked and sliced
5 grams (1 teaspoon) butter or ghee (optional)
Salt and black pepper, to taste
Instructions:
Cook the cauliflower florets in a large fry pan and about one inch of water until tender; drain excess water if needed.
Place the chopped romaine, cabbage, chicken and dressing in a medium bowl. Transfer the contents to the fry pan, combine with the cauliflower and warm over medium heat. As the salad cooks down (greens should be slightly wilted but still have some crunch), use a spatula to gently toss the ingredients in the fry pan until contents are fully combined.
Transfer the warm salad back into the bowl. Toss in the celery, and add the beets, sauerkraut, potato (I usually microwave my potato for about 30 seconds first) and butter or ghee on top.
Season with salt and pepper, to taste.
Recipe Notes:
Make ahead: The chicken and potato can be cooked and stored in the fridge up to three days ahead of time. I typically boil 3-4 small potatoes and bake 3-4 boneless, skinless chicken breasts to have on hand for the week. Added health benefit: Cooked and cooled potatoes are an excellent source of resistant starch—a prebiotic that helps us maintain a healthy balance of bacteria in our gut. You can read the basics here and learn more about the science here.
Customize It! Test out different combinations of protein, vegetables and starch to change up the nutrient profile and taste. I always start with romaine lettuce and a dark leafy green as the base, and then build the salad from there. My favorite substitutions include:
Broccoli instead of cauliflower
Arugula instead of red cabbage (arugula is lighter than cabbage so use about 50 grams or 1 cup)
Canned tuna or salmon instead of chicken
White rice (I like Calrose or Jasmine) instead of potato
Grape tomatoes instead of (or in addition to) marinated beets
More Visuals!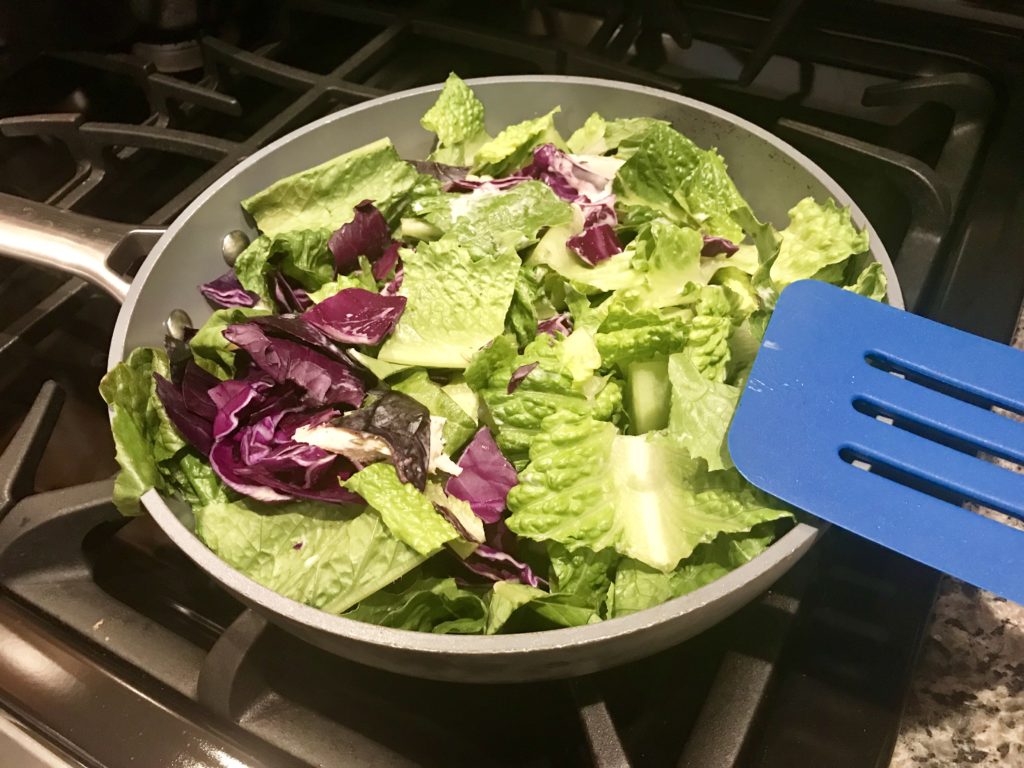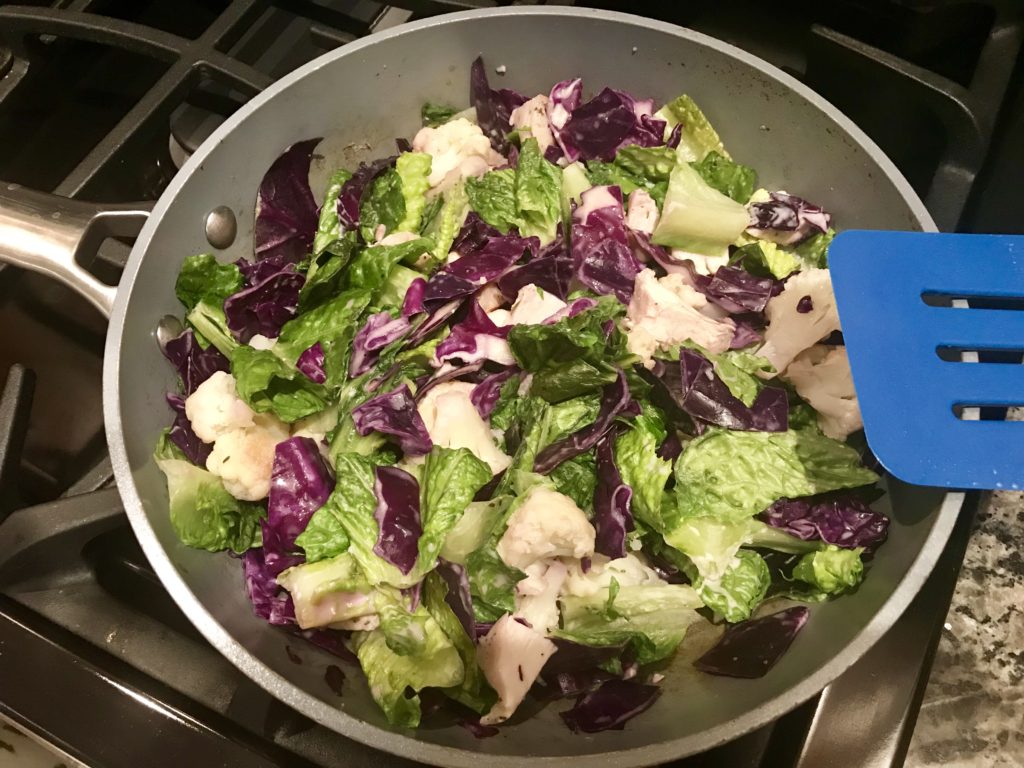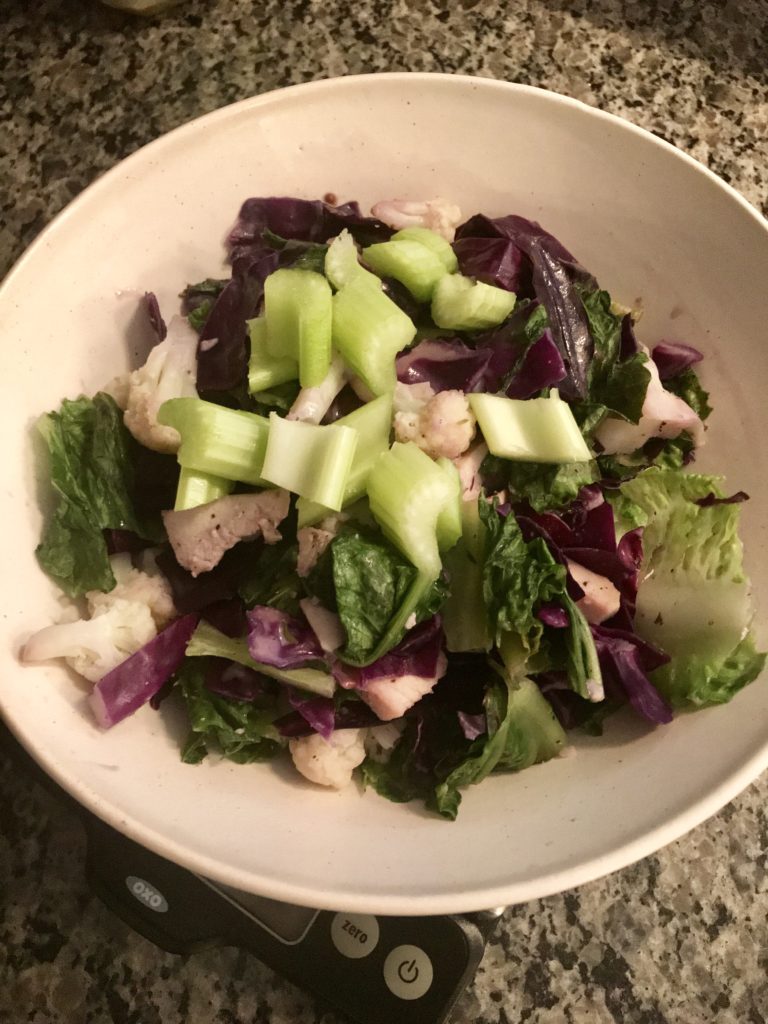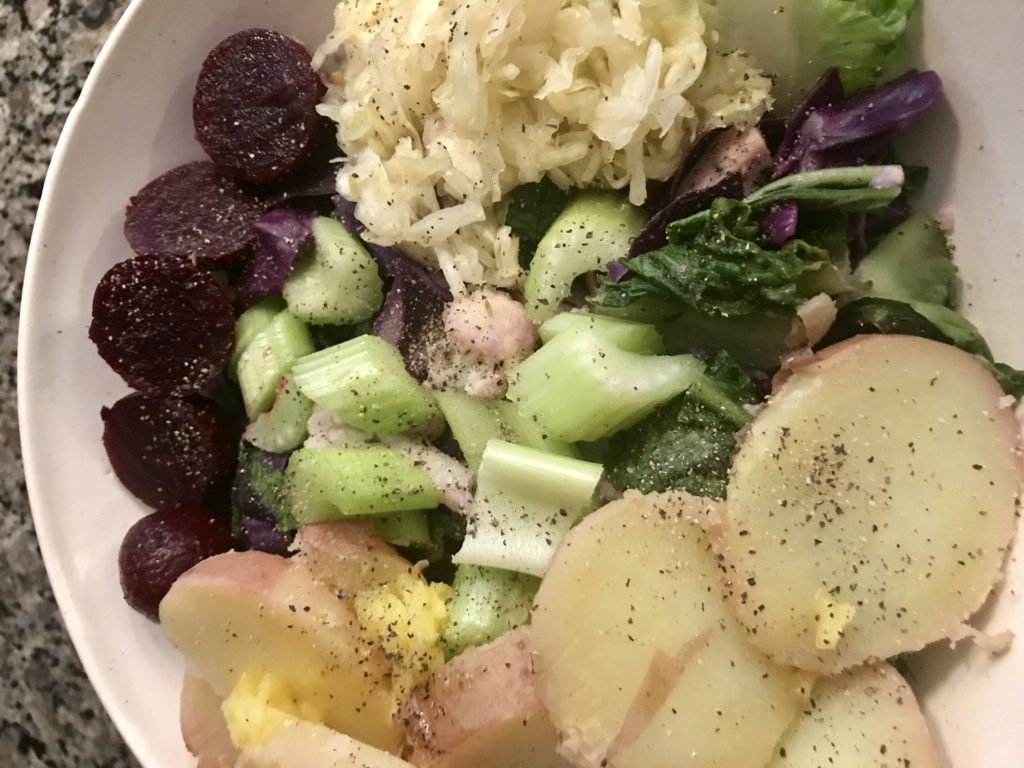 As always, thanks for reading!
Eat well and keep training hard—race season (and warmer weather) will be here before we know it!