The distance race is a struggle that results in self-discovery. It is an adventure involving the limits of self. –Paul Weiss
Part 1
Writing doesn't always come easy. But I love it because it's a way of sharing what I have to say with the world. Most months, I'm hit with welcomed flashes of inspiration: I learn something on the water that I'm compelled to share, or gain some personal wisdom or insight that I think could be interesting or valuable to others.
During the days leading into July—days I'd normally be scrambling to write a new post or (ideally) perfecting the finishing touches—nothing was coming.
I'd been racing and training in two gorgeous cities abroad, and on courses rich in both history and prestige. How was it possible that the words wouldn't flow? Inspiration was well within reach all around.
Scenes Transatlantic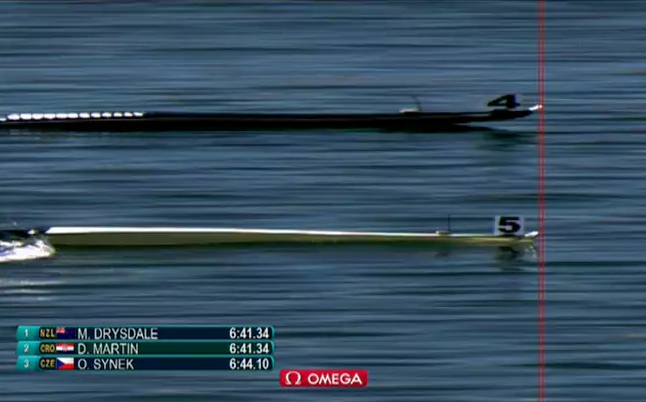 On one of the first days in the Netherlands, I saw Damir Martin in conversation with his coach before launching his single for practice. Damir is a two-time Olympic medalist from Croatia who is known, most recently, for an epic race against Mahe Drysdale (New Zealand) in Rio that came down to a photo finish. My team had set up shop on boat racks in close proximity and saw him at work quite often during the time we were there.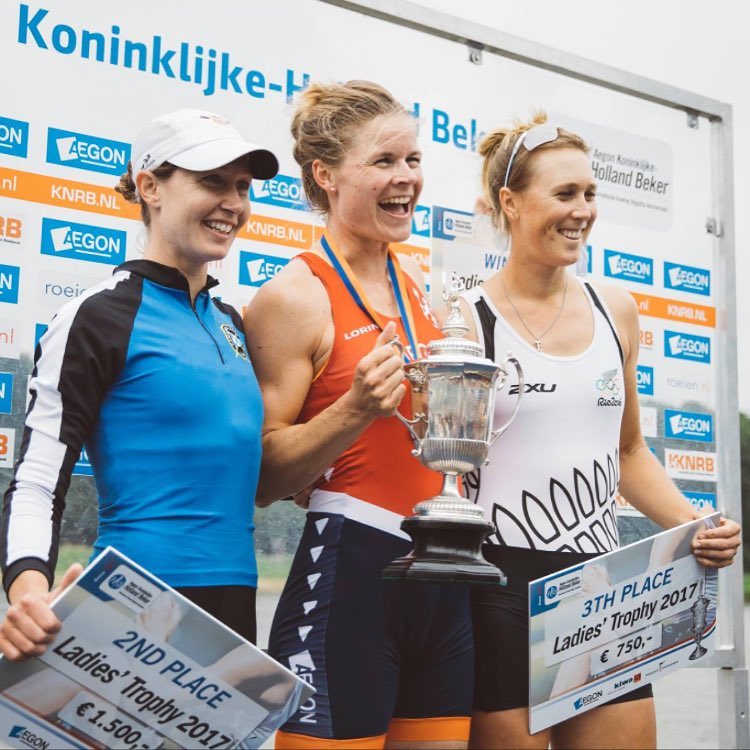 My friend and fellow lightweight, Mary, raced out of her weight class at Holland Beker. She competed for the Ladies' Trophy in the women's open single and came up big with a second place finish in a field of highly accomplished and respected women.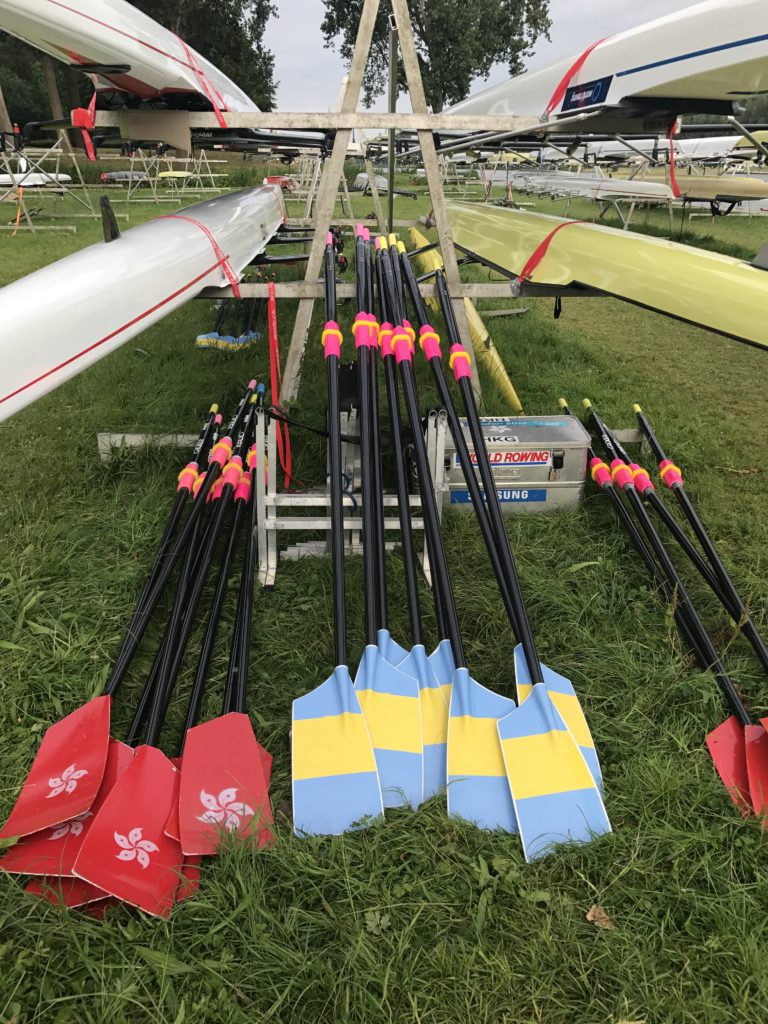 Athletes sporting gear and rowing with blades representing their countries packed the regatta venue. This stood out because I've always viewed national team gear and equipment as something special that's earned. There was a definite sense of collective professionalism and caliber compared to anything I'd experienced before.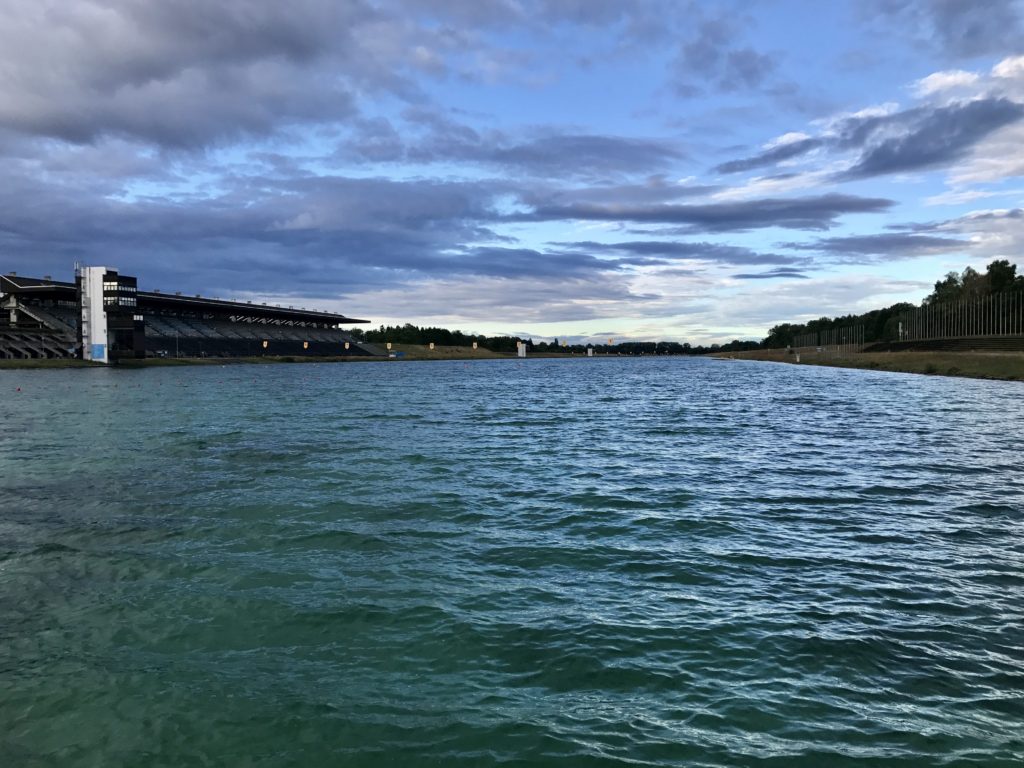 In Munich, the sight of the racecourse alone was enough to give pause on most mornings. Couple that with the venue's history as the site of the 1972 Summer Olympics and you get the perfect place to focus, reflect and train.
Why, then, the struggle for words?
Easy logic says that my brain had been full. I was traveling with 10 other athletes plus our coach, and experiencing all sorts of new things while ultimately tasked to perform. We flew across time zones just days before making weight; adapted to a new boat, time zone and regatta venue within days of our first scheduled race; and lined-up as a quad for the first time in competition. We navigated food choices and weight-making in a new country while limited by the kitchen offerings (none) of our hotel; and ultimately learned how to step up our game and work on the road.
As I sit and digest the trip though, I see other, more nuanced details at play. My voice felt increasingly stifled in the boat during the week right before our departure. By the time we were rowing at the Bosbaan in Amsterdam, I had all but completely retreated from verbally contributing during practice. This was a difficult time because it's natural for me to both give and seek feedback on the water, regardless of if I'm in a single, double or quad.
Finding Balance
I've written several times about how I love the way teammates share energy. I've also talked about supporting and learning from one another as athletes, teammates and friends. In an ideal environment, we pick each other up, hold each other accountable, push each other to improve, and contribute, as best we can individually, to a collective effort that may just result in something greater than what we'd accomplish alone. It's an ideal, I know. But it's one in which I stand grounded.
Team boat rowing, specifically, involves a unique type of trust and understanding. Communication is key; give-and-take is required. Personally, I constantly want to push and improve. My brain is analytical. I thrive on developing my understanding of the stroke. I love testing speed and learning new ways to make the boat run. To me, part of the lure of the team boat is the push for speed and exploration of efficiency as one.
In my experience, each big boat is different, and each usually naturally finds its own rhythm. But what happens when the working dynamic is strained? Honestly, I am still learning. I know that dynamics evolve and relationships require attention. I know that change and compromise is key. While someone might like to analyze and problem solve in real time (me!), someone else might like to keep it relaxed and more freely find speed. Talk, listen, keep it professional during workouts and focused on common goals. If mutual trust and respect are in place, I think that most combinations can go a long way.
No Wasted Water
I said that my voice in the boat felt stifled. Thankfully, the sentiment resolved, and on our last Friday in Munich, during an easy afternoon row, I felt a spark inside that'd been missing. I was tired. Kat, my friend and the stroke seat, was tired. Perhaps the whole boat was tired. Then, on our first trip on the course, I noticed how Kat sat tall at the backend. Her catches were sharp. The rhythm was strong. Kat was tired, and yet she was getting it done.
The words, "no wasted water," came into mind, and I used that! I'd like to think that in that moment, I sat a little bit taller and started rowing a little bit sharper. I'd also like to think that the energy I gained from Kat was felt and passed back to bow. We had a great row that Friday and inched one step closer to the goal.
Part 2
The Trip Abroad: A Birdseye View
On June 20th, I left for Amsterdam as part of the lightweight women's quad (LW4x) representing the Schuylkill Navy High Performance Collaborative (HPC). The Collaborative is an initiative designed, in part, to foster cooperation and create more elite-level training and racing opportunities for athletes in Philadelphia. This year, in addition to the LW4x, it sent a men's open single (M1x), double (M2x) and quad (M4x), to race Holland Beker in Amsterdam, and then train at the Oberschleißheim Regatta Course, just outside Munich. Athletes from Penn AC, Vesper and Malta all came together as part of the team. At the end of the week in Germany, I flew home with the lightweight quad, and the men moved to Lucerne, Switzerland, to race World Cup 3.
My boat fared well on the Bosbaan in Amsterdam. We raced a straight final on day one of the regatta and finished second to the crew from Great Britain. On day two, we raced a heat in the morning and finished third in the A Final in the afternoon, behind Great Britain (1st) and the Netherlands (2nd). Complete results can be found here. Conditions on both days were rough. There was a raging tailwind and whitecaps, with wind speed roughly 20mph. My hands were wet and the water so bad that during the last 15 strokes in the final day two, all I could think of was just hold onto the blades!
The main goal in Munich was to bang out some quality training while the men primarily prepped for Lucerne. The transition to the new location was much easier than the transition in Amsterdam. We were using the same shell that we had raced at Holland Beker, which meant the rigging was set and we could immediately get to work on the water. In my mind, the venue was perfect for what we set out to accomplish in a week. There was calm in the air, and space to think and breath. On some days, the four Schuylkill Navy boats were the only boats on the water—heaven compared to most days at home.
A Few Favorite Photos
Enjoy!