Set your bar high, be kind, and do more of what makes you stronger. ~Chris Moore
It's been two weeks since my last race at World Championships and there's still a lot competing for space in my head. So, let's start with something straightforward: a race recap, start to finish.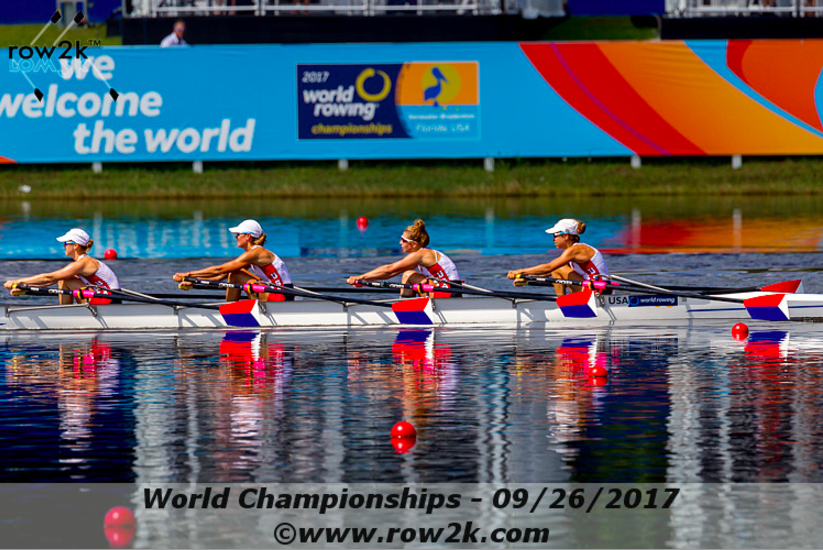 Monday Heats
Monday morning we raced in the first of two heats, against Canada, Great Britain, Japan and Vietnam. Top two in the heat would advance to the A Final on Friday, while third- through fifth-place would race in the repechage the next day. Most crews, regardless of boat class or progression, which varies depending on the number of entries in any given event, want the most direct path to the A Final. One less day of racing means extra recovery and presumably more confidence with a top finish in heats. For lightweights, there's the added incentive of one less weigh-in, which is huge in terms of mitigating stress on the body.
Our goal for the heat, therefore, was to finish in first or second, and earn three nice, long days to regroup and sharpen up for the final, which was scheduled for Friday. We'd been feeling good in the lead-up to racing and seeing splits that should have put us in the mix with top crews. But when the starting system sounded, we literally – and I mean literally – got left at the line. It was an interesting and awful contrast to Holland Beker when we were surprised to grab the lead off the start. Here, we were again surprised but this time because we were down within the first 10 strokes of the race.
What on earth had happened?!
We finished fourth in the heat, which put us in the repechage for a second and last shot at the A Final.
Tuesday Repechage
I knew the rep would be tough. We were up against China, Japan, Vietnam and Thailand. China and Japan both posted faster times than us in the heats, and the progression was exactly the same: top two to the A Final, and third through fifth place to the B Final. Plus, we struggled with weigh-in on Monday and I could tell that everyone was feeling a little more drained than normal.
The night before, we had decided to adjust our start sequence and add more length to the first five strokes off the line. The decision paid off because this time we jumped out in front off the start. China moved ahead by the first 500m but we still held about half a boat length on Japan. When I watch the video replay, it looks like we maintained our position on Japan throughout most of the second 500m, but then they steadily chipped into our lead. We were about even at the 1,250m. Then, with about 650m left in the race, they shifted their rhythm to move and we didn't have enough to respond.
China won the rep in 6:40.750, and would later win a bronze medal behind Italy (gold) and Australia (silver). Japan finished second in the rep to earn the last spot in the A Final. We finished third, followed by Vietnam (fourth) and Thailand (fifth).
Friday Final B
Nobody wants to end up in the B Final but that's exactly where we were—lined up in between Thailand and Vietnam. In my opinion, we still hadn't found the solid base rhythm on the racecourse that we'd been training in the lead-up to racing. So there was lots of opportunity to improve and perform.
The race started fast. We took the lead early and pushed for more the entire way down the course. We ultimately finished in first (seventh overall) with lengths of open water on the other two crews. On paper, it was the best way to end a tough week. But similar to the heat and the rep, the piece itself teetered on disconnected and frantic instead of solid and confident, aggressive, controlled and composed.
Thoughts After Two Weeks to Chill
For better or worse, I don't have much race-specific, post-Worlds analysis to give. Instead, the words that stand out in my mind as I sit and work to sum up the week are acceptance, surrender and gratitude. Acceptance and surrender don't scream competitive fire, and gratitude sounds incredibly cliché. But hear me out and conclude what you want. I'm proud of the week, proud of the year, and gave absolutely everything I could to the boat.
There are things I know about rowing.
Trust is essential to success. Trust in your coaches. Trust in your teammates. Trust in the process. Trust in yourself. When all else is equal, no amount of power or talent will win over lack of trust.
Communication and ongoing dialogue is key. Attention to the nature of the dialogue is also essential. There are points in the season, like when a new crew comes together, when it's fun and valuable to discuss the feel of the boat, analyze pieces, and find ways to improve and gain speed. There are other points, like during the immediate lead-up to racing, where the dialogue needs to preserve or enhance confidence and conviction more than anything else.
Improvement (in anything) is predicated on sharing ideas and being open to feedback.
A relentless focus on progress goes a long way. I like to think in terms of forward motion: learn, adjust, move forward, repeat.
There's danger in losing sight of the sum of the parts. Whether you're a single sculler or rower in a boat of eight, no one athlete achieves anything great on their own.
Rowing (and sports) is about people and relationships as much as it's about competing and pushing for more.
Teammates can be incredible gifts. We're meant to support and learn from each other. We're meant to build each other up, make each other better, and push each other for more.
Humility, honesty and personal responsibility breed growth. Growth breeds longevity and success. All of these traits work in harmony with a fierce desire to win.
We as a crew increasingly lost sight of many of these things. If I'm disappointed in anything, it's not our result but in the way we deteriorated internally. It felt like it happened fast and unexpectedly, but the dynamic actually shifted early on and simply picked up momentum in the end. To that point, I learned my limitations as one person in a boat of four, and re-learned the importance of controlling the controllables and surrendering to the rest. Anything else is wasted energy and at this level, no one has energy to waste.
Acceptance.
Surrender.
This Story Ends Happy
There's a certain freedom in racing when you're happy in all the varying aspects of your life. The motivation to win and achieve comes from someplace different when you learn to separate your identity from your sport. It's confusing and hard to make sense of at first. It makes you wonder if you're losing your edge. But then you start to identify all the reasons why you still desire and hunger for more.
I saved this quote by Yuri Vlasov a while ago because when I read it, I immediately thought, "YES! That's it!"
At the peak of tremendous and victorious effort… while the blood is pounding within your head, all suddenly becomes quiet within you. Everything seems clearer and whiter than before, as if great spotlights had been turned on. At that moment you have the conviction that you contain all the power in the world, that you are capable of everything, that you have wings. There is no more precious moment in life than this, the white moment, and you will work very hard for years just to taste it again.
Even now, the words elicit something visceral and true.
The Good Stuff
We went into Worlds thinking we'd be in contention for a medal and left with a seventh place finish. Part of me wonders whether our expectations were simply off point. Part of me knows that the GPS doesn't lie and the numbers we trained in practice were fast. It'd be easy to feel frustrated with how the week played out and I know it'd be cool to be writing about a podium finish.
But the truth is I had an incredible week. I pushed myself racing and lined up against the best in the world—the world! I felt confident, calm and focused on the work. I rowed for my country, which is something I've been striving and striving to do. And… the part I loved the most… I did it all on home soil with Kyle by my side and my family in the grandstands.
The night before the final, I sat on a spin bike outside the hotel. The sun was setting and the air was warm. There were palm trees in view to my left. All I could think of was being in paradise.